Here we go Wednesday! Man, it has been a long week but I have gotten a lot done, so its been worth it! I also cannot wait for tomorrow because we have our annual Military Police Ball and the best part you ask?!?!!? Our best friends are coming to OUR HOUSE!:) I cannot wait. We haven't seen them in a year and we have 4 full days with them!:)
I bought some pumpkin a coupe days ago and am ready to start baking pumpkin style;) I am thinking my first bake will be Pumpkin Spice Muffins or bread:) MMM....I can taste it now! I haven't had much luck finding seasonal coffee creamers yet...a con to living in a small town. One thing I have fully stocked up on are my wallflowers! If you haven't stopped into Bath and Body Works you should, again, head there pronto!
Now onto
What I Ate Wednesday
with Jenn over at
Peas and Crayons
!!! If you haven't jumped on board with this yummy link party, you definitely should! You can get lots of food ideas:) I will definitely post some Halloween and Pumpkin treats next week!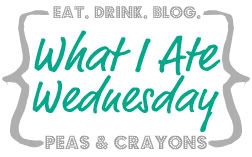 2 Van's Blueberry Waffles
Lunch
Kashi Freezer Meal:
Sesame Chicken
Dinner
Zucchini and Mozzarella Stuffed Chicken
Potato and Brussel Sprout Medley
<<<<<<<<<<<<<<<<<<<<<<<<<<<<<<<<<<<<<<<<<<<<<<<<<<<<<<<<<<<<<
Well there ya have it! Tomorrow will be recipe day....yeah, the procrastination has gotten that bad;) Now to change the subject...Is it too soon to say Christmas season is near;) I am soooo ready!!!!:) Have a great Wednesday!